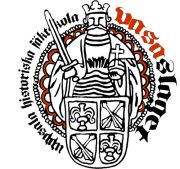 Vasaslaget is a Swedish HEMA-event that primarily caters to the Scandinavian/Nordic HEMA-scene but of course also welcomes participants from all over the world! Next year the event will be held 7-9 of March (leaving some time for recovery for contenders in Vasaloppet, the prestigious ski race held in Dalecarlia on the 2nd of March)!
Apart from seminars held by some of the most renowned Nordic instructors, free sparring (sparring space available all the time, except during late evenings and nights) and social get together, this year we are taking the step to full-blown competitions in longsword, sword and buckler and wrestling!
The sword and buckler and wrestling competitions will be open for everyone, whereas the longsword competition is restricted to people who have not reached quarter finals (top 8 placement) in any (not including internal club competitions) longsword competition the past three years. Longsword and sword and buckler will be limited to 24 participants each. When you sign up (not possible yet) you will be able to prioritize what competitions you would most like to take part in (if any). If the competitions get full we will then decide who can participate based on the priority lists and when people applied to the event.
The event will be held in the impressive and newly expanded sports and event facility Fyrishov (www.fyrishov.se), central in Uppsala with restaurant, saunas, cabins, pools and one of the largest water parks in Sweden all in one place (so bring the family!). Fyrishov is easily reached by bus from the Uppsala central station to where you easily go by train from Arlanda airport or from Stockholm.
Sleeping will be possible in one of the halls, but we might not be able/allowed to provide breakfast this year. In that case it will still be available in the Fyrishov restaurant. More info about that will follow. It will also be possible to rent cottages (695 SEK/night for four or five beds) from Fyrishov for a more comfortable stay.
The event is all yours for only 900 SEK! Instructors, judges, referees etc. will get discounts based on how many classes they give and/or competitions they assist in. People who do not participate in the competitions, sparring or classes but just want to help running the event or watch will only have to pay 200 SEK if they sleep in the halls. If you need to cancel a full refund will be possible if done before 1/2. If you cancel before 22/2 half your registration fee can be paid back. After that we almost certainly cannot pay back the registration fee.
The event is sponsored by Fyrishov, Fühlen Designs, Regenyei Armory (http://www.regenyei.sg18.net/) and Swords Szymon Chlebowski. We are very grateful. This page will be regularly updated with news and information on Vasaslaget 2014 so stay tuned!
Registration is now closed, but might open again if there are cancellations.
Important: alcohol is forbidden at Fyrishov outside their restaurant. It is of course OK to have alcohol in other restaurants in town, but not in any of the training or sleeping areas.
The schedule (still preliminary) is availabe here.
Rules for the longsword tournament are available here.
Rules for the sword & buckler tournament are available here.
Rules for the wrestling tournament are available here.
Instructions for tournaments staff are available here and the role assignment is available here. Contact us if you have any questions.
Clarifications regarding the lines of communication during the tournaments are available here.
The pools for the longsword and sword & buckler tournaments are available here.