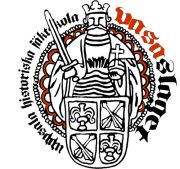 Vasaslaget is a Swedish HEMA-event that primarily caters to the Scandinavian/Nordic HEMA-scene but of course also welcomes participants from all over the world! 2017 the event will be held 17-19th of March. As can be seen below all details are not yet decided, but reserve the date and come back here for more information.
Like last year we will only have one hall (Gamlishallen, Gamla Uppsala) but our plan is to have workshops and sparring on Friday evening and Sunday. On Saturday there will be competitions in longsword as well as sword and buckler and also single rapier (no dagger). We will try to make enough room for sparring and warm-up during the tournaments. We will invite some of the most renowned Nordic instructors for workshops and seminars. The social aspects of the event is very much in focus and it is a great chance to meet other HEMA practitioners.
The sword and buckler and rapier competitions will be open for everyone, whereas the longsword competition is restricted to people who have not reached quarter finals (top 8 placement) in any (not including internal club competitions) men or open men/women longsword competition, with more than 20 participants, the past three years. If you qualify for the longsword competition, but are still very experienced and good then we would recommend that you give your place in the competition to another participant who is not yet as experienced. I.e., if you think this will be a very easy competition for you, please do not sign up for it. Rapier and sword and buckler competitions will be limited to 16 participants, whereas the longsword will be extended to 32 people this year. When you sign up (not possible yet) you will be able to prioritize what competitions you would most like to take part in (if any). If the competitions get full we will then decide who can participate based on the priority lists and when people paid their registration fee.
The event will be held in Gamlishallen in Gamla Uppsala.
This year sleeping is not possible in the training hall. We recommend booking one of the hostels in Uppsala (http://www.uppsalasvandrarhem.se/) or renting a cabin at Fyrishov (http://www.fyrishov.se/infor-besoket/boende/ for 695 SEK/night for 4-5 people). There are also a number of hotels in Uppsala. From central Uppsala the hall is accessible by bus.
The base price for the event is 300 SEK and an additional 350 SEK for the longsword competition and 250 SEK for the sword and buckler and rapier competitions. For competition staff a refund of 100 SEK will be given for each competition.
If you need to cancel a full refund will be possible if done before 17th February. If you cancel before 3rd of March half your registration fee can be paid back. After that we almost certainly cannot pay back the registration fee.
Important: alcohol is forbidden in the training hall. It is of course OK to have alcohol in restaurants in town, but not in any of the training areas.
Registration is made by filling out this form.
The schedule and workshop descriptions (currently just the type of workshop) is available here.
If participating (or working as staff) in the tournaments make sure that you have read the rules for the different tournaments: longsword, sword & buckler and rapier.