Viktigt! I och med covid-19-situationen rekommenderar vi alla att hålla sig uppdaterade. Läs gärna https://www.folkhalsomyndigheten.se/smittskydd-beredskap/utbrott/aktuella-utbrott/covid-19/. Svenska Budo och Kampsportsförbundet rekommenderar att undvika kroppskontakt vid träning. Detta gör att brottningen på söndagar ställs in. I övrigt fortsätter vi träna till andra rekommendationer kommer. Kom inte om du visar symtom på förkylning eller influensa. Detta gör också att träningar kan komma att ställas in med kort varsel. Uppdateringar görs framförallt i vår facebook-grupp, men den senaste informationen därifrån ska också synas längst ned på den här sidan.
TRÄNING NEDSTÄNGD
Med de nya restriktionerna kring allmänna sammankomster samt det tydliga budskap som idag presenterades av regeringen är det inte möjligt eller rimligt att fortsätta träning.
Detta gäller tills vidare.
TRAINING CANCELLED
Due to the new restrictions it is no longer possible to keep training.
This decision will stand until further notice.
Välkommen till Uppsala Historiska Fäktskola. Vi tränar historisk europeisk kampkonst (HEMA). Träningsformen är en blandning av kampkonst/kampsport, inklusive teknikträning såväl som sparring, och studier av historiska källmaterial. En presentation av HEMA ges i dokumentären Back to the Sources.
Höstens (2020) nybörjarintag börjar med ett prova-på-tillfälle söndag 13/9 kl 17.30 i Svandammshallarna. Priset är 50 kr och vi rekommenderar lämpliga träninskläder och inomhusskor. Därefter följer träningen vårt schema. För att träna med oss krävs det att du är 15 år.
Det är viktigt att alla betalar sin medlems- och träningsavgift – inte minst för att vara försäkrad genom Svenska Budo & Kampsportsförbundet. Om du inte betalat ännu så läs hur det ska göras.
Vi kan ordna träningspass för t.ex. möhippor och svensexor eller andra evenemang. Även andra speciella träningspass eller uppvisningar kan ordnas. Se kontaktsidorna för att fråga om mer information.
UHFS är med i Svenska HEMA-förbundet och Svenska Budo & Kampsportsförbundet.
Om du som nybörjare vill ha tips angående utrustning börja med att läsa informationen här och fråga sen en av instruktörerna om du undrar över någonting.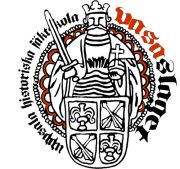 Vasaslaget är vårt årliga HEMA-evenemang. Information om Vasaslaget 2020 finns här.
Från Facebook
Diskussionsgrupp
Hej my sword-friends!

My time in Uppsala is over, I am moving to Prague at the end of the week to start a new postdoc, I was hoping to stay a bit longer here but life decided other way. I hope I can keep training there to keep the level for when we will meet again 😀

I would like to thank all of you for all the moments we spent together.

I am so sad that this years the covid made everything complicated and reduce the training an activities a lot. Leaving like that without a proper goodbye is also sad. But I will keep an exellent souvenir of all of you and I hope to see you later in Uppsala or during competition to share a beer together!

Enjoy life and fencing, take care and see you soon 🙂 ...